Jim this is so awesome!! Thank you thank you! We are so happy with how it all came together and amazed at your fast work and creative mind! -Jennifer


Save the Date Maps
Save the Date Maps. Each one is Hand Illustrated and Watercolored. Wedding and Special Occasion Maps, Announcements and Personalized Cards.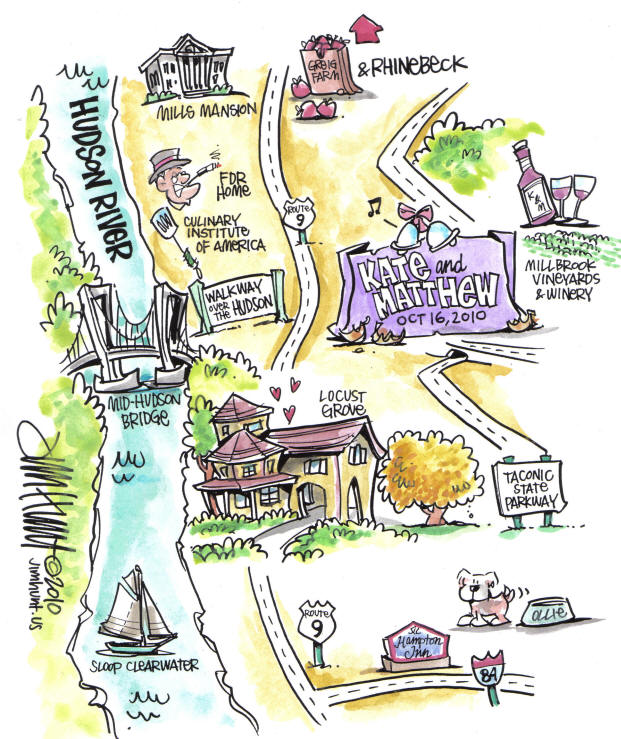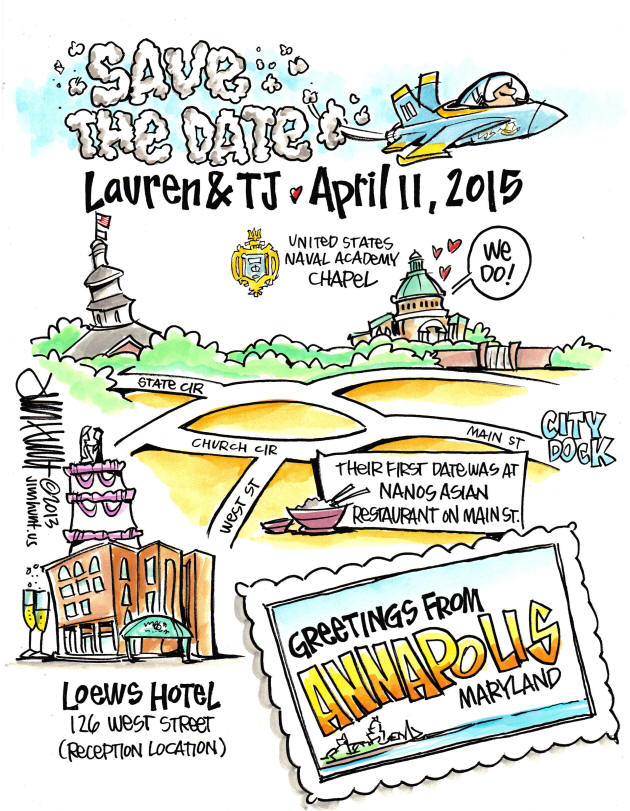 We love it!! Thank you so much :) -Lauren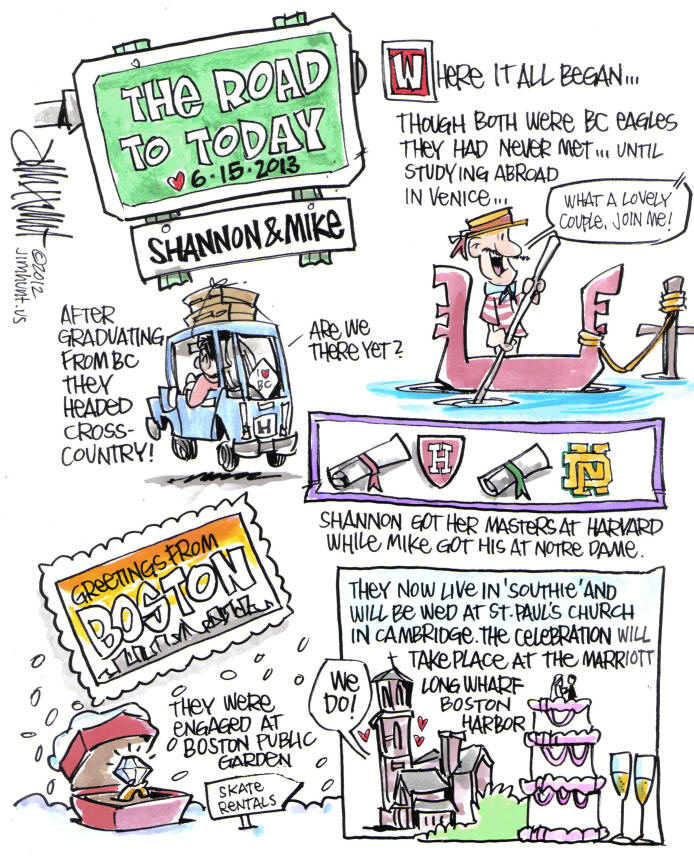 Its been a pleasure for us working with you... also thank you very much for your quick replies and turn around. appreciate it. -Safak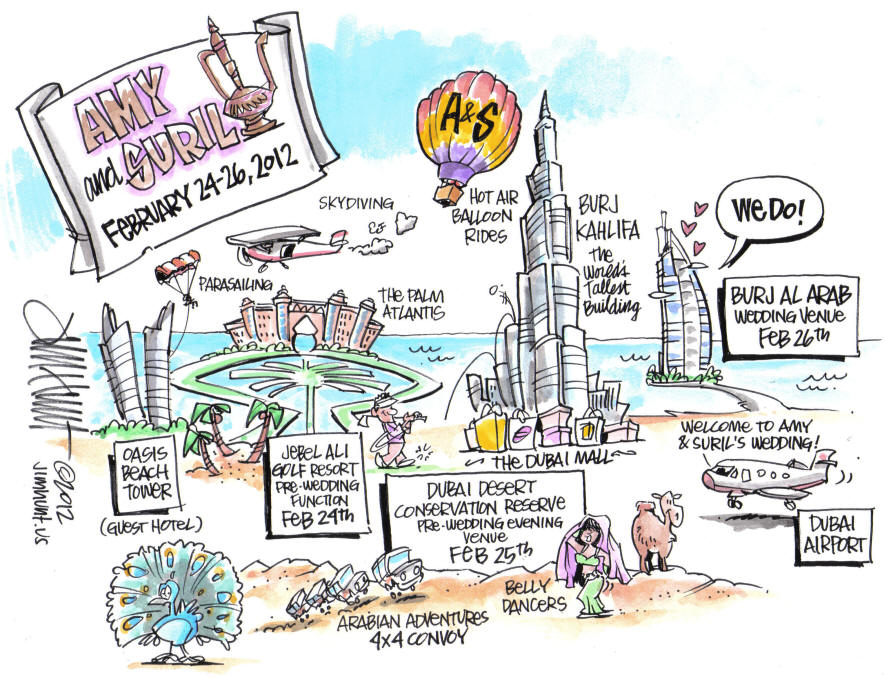 -Amy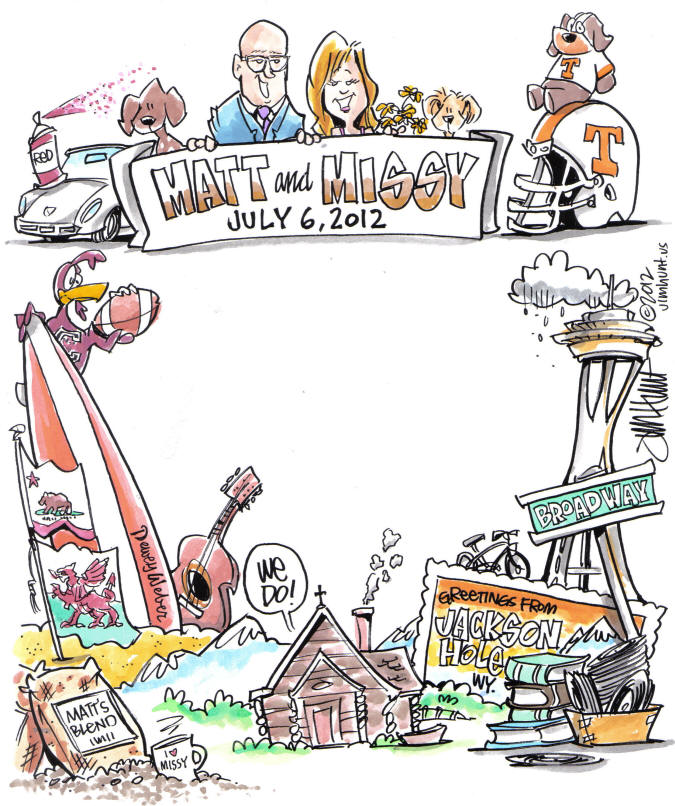 (Invitation Border Template)

We absolutely LOVE it!! Thank you so much for all of your work.
It has honestly been a pleasure working with you.
We appreciate everything you did. -Missy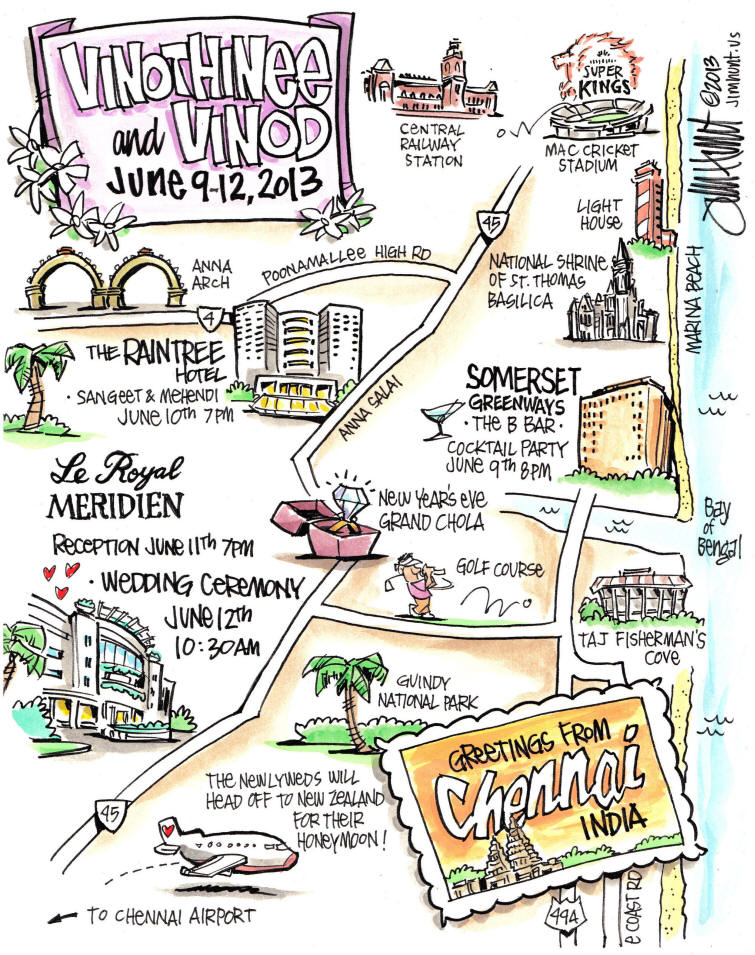 I am lost for adjectives, it's exactly how I wanted it. Brilliant! -Vinod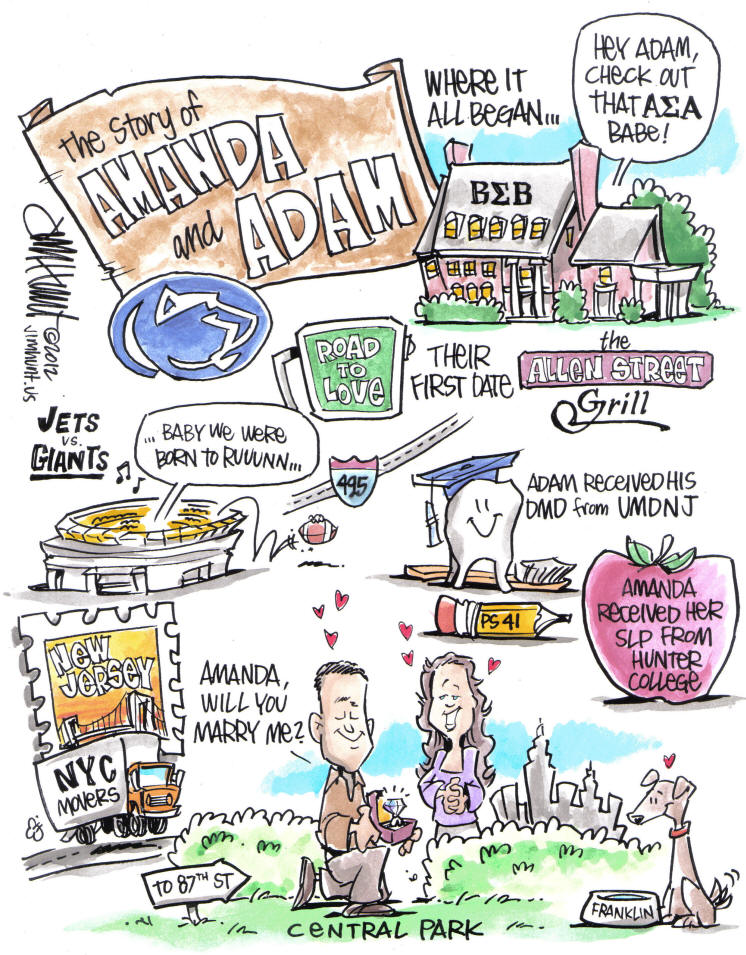 Perfect perfect perfect! Hope I wasn't too difficult of a client. Thank you for your patience. -Adam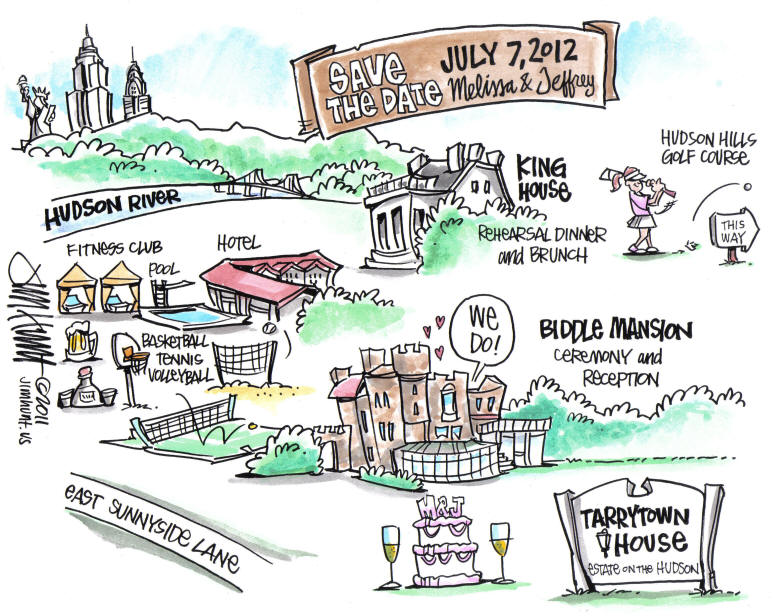 Where do I even begin? This is UNREAL and AMAZING and more than we could have ever expected. The final product reinforced how right we were to work
with you on this!!!! Thank you a million times -
you have really made our wedding venue come alive!!! -Melissa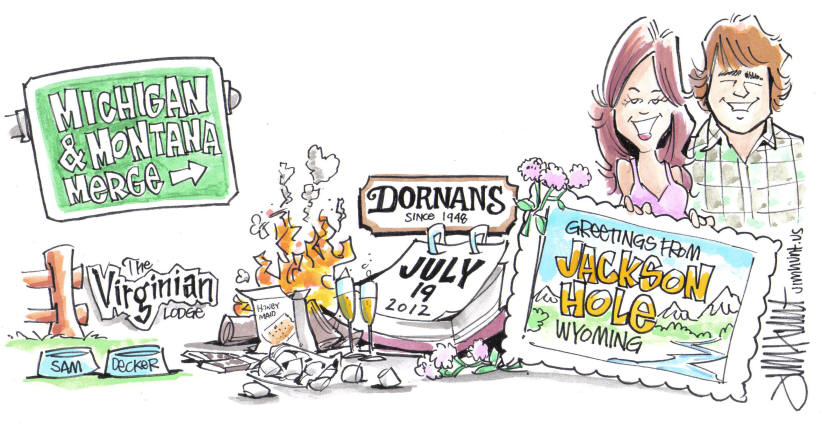 Jim we LOVE IT!! Thank you so much!! -Kristen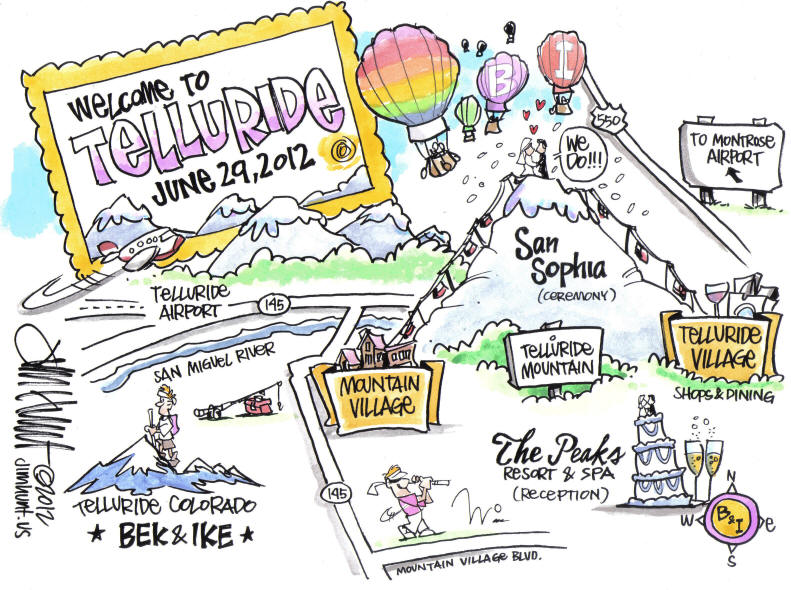 Thanks again Jim, we are SUPER stoked about the final piece! It's going to look awesome in our invitations!! :) Have a great day! -Becky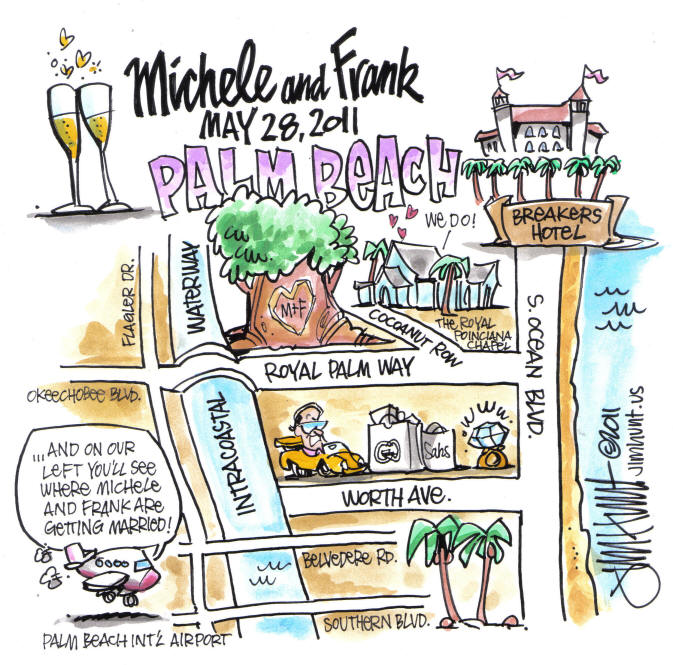 AGAIN, you're the MOST WONDERFUL thing that's happened to my wedding next to my GROOM!!! Thank you, THANK YOU, thank you!!!! -Michele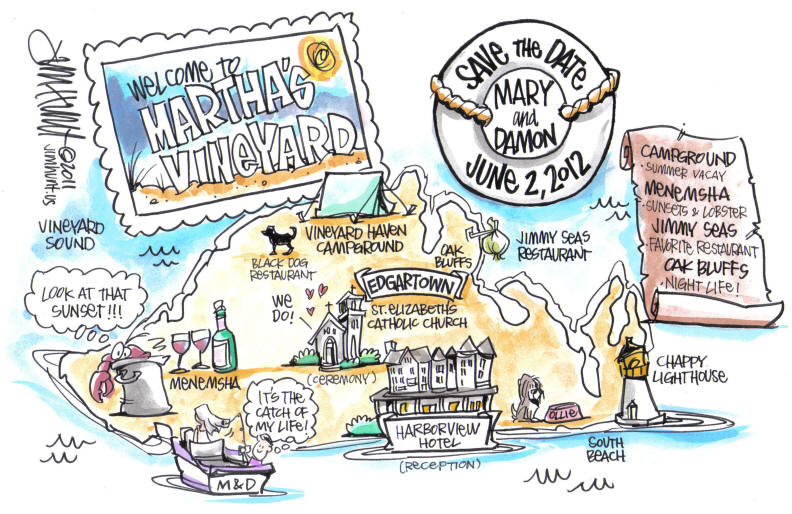 Love it. Love it. Love it! Thank you so much Jim! -Mary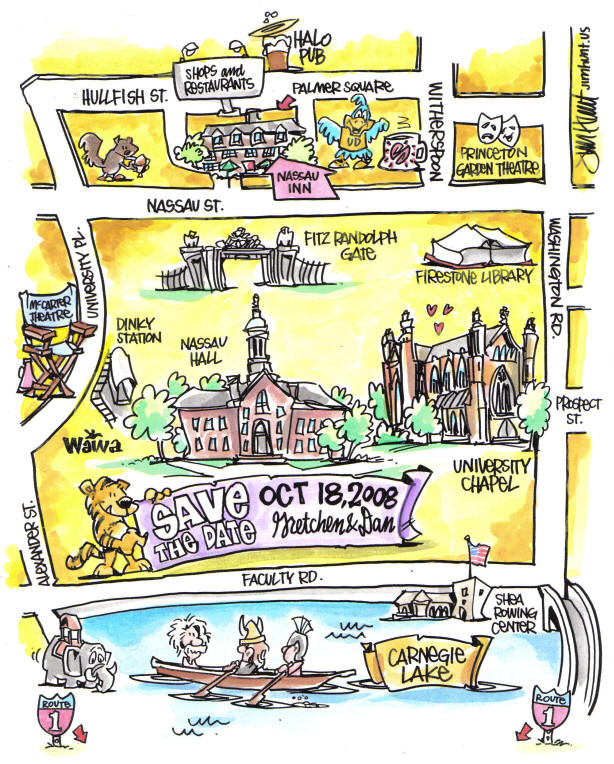 "Thank you so much. It looks great" -Gretchen



FOLLOW ME HERE!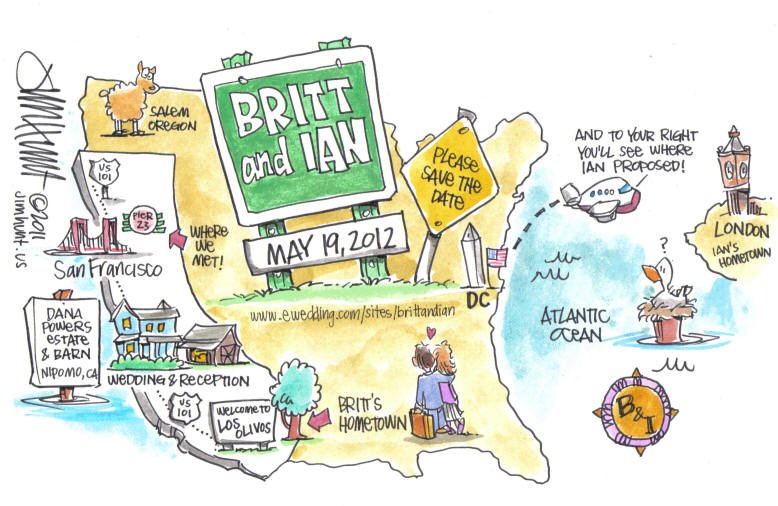 Thank you so much!!! It's makes us smile every time we look at it. -Britt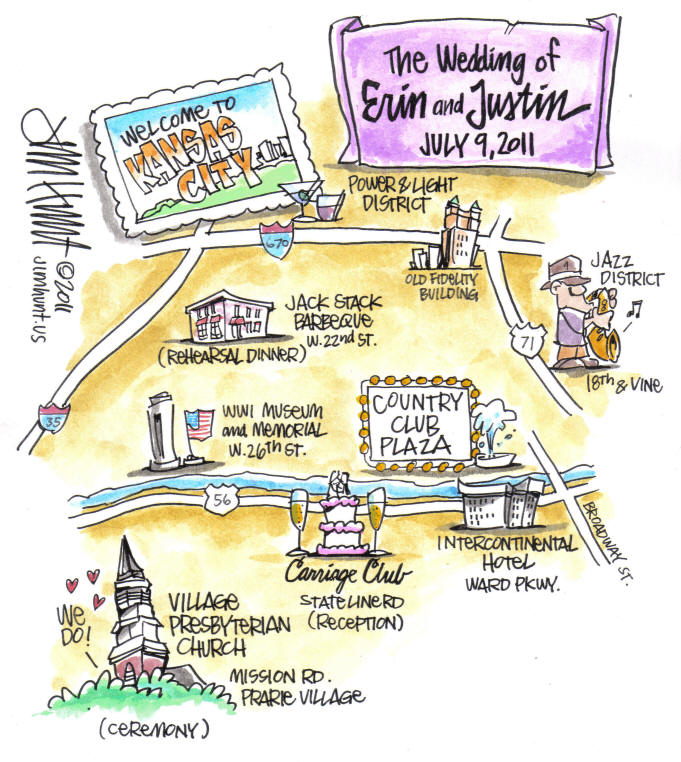 Looks perfect! Thank you! -Erin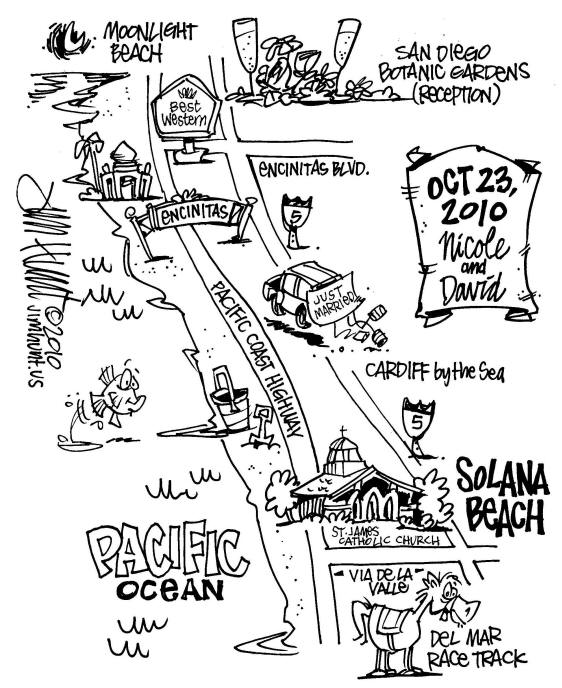 Spectacular work Jim, we love it!
Thanks for the efforts and flexibility, -David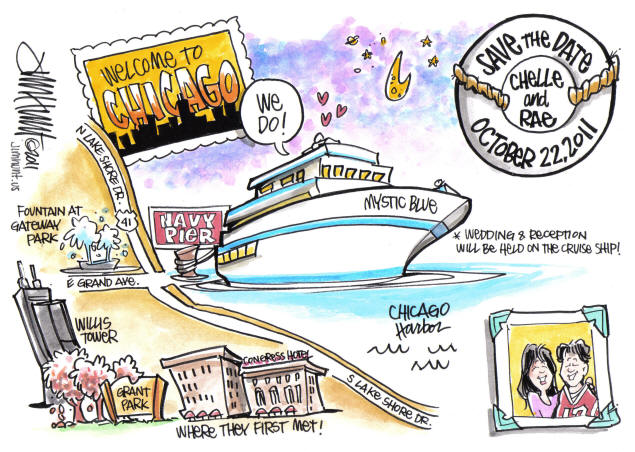 We love it!!!! ... You are amazing! Thank you so much!!! -Chelle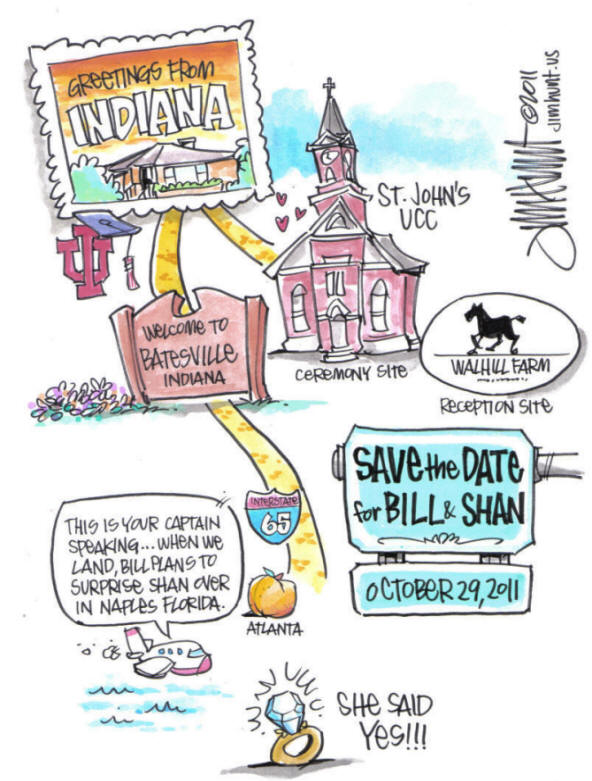 The color art looks awesome! We couldn't be happier with the work you've done and how quickly you've done it! We can't wait to send out our saves the dates to our guests! -Bill & Shan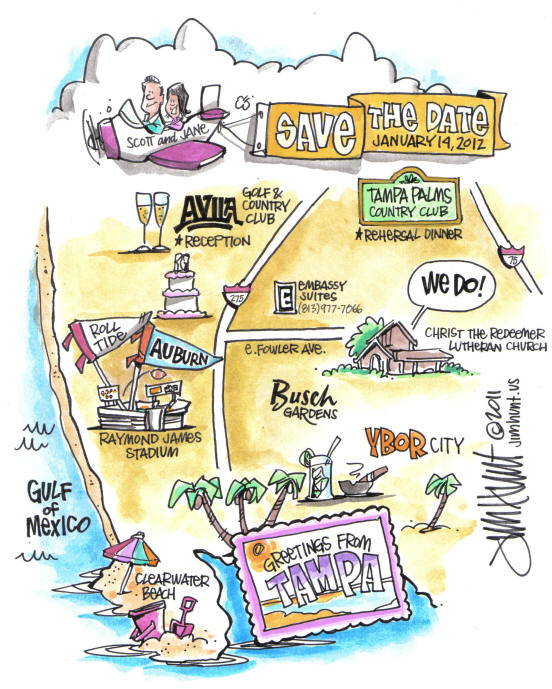 O my goodness! L-O-V- E it! THANKS bunches Jim!... Your artwork has, by far, well exceeded my expectations! -Jane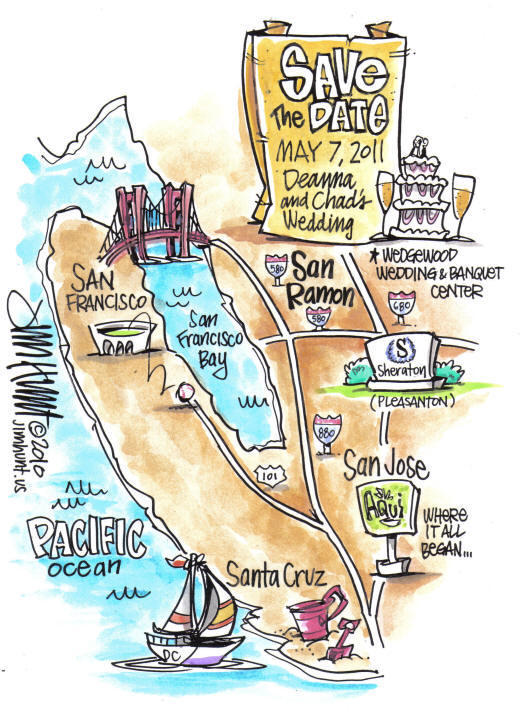 "Thank you so much! I am so happy that I stumbled onto your website. Chad and
I both think this is the coolest save the date and that we really couldn't
have found anything more perfect. You were so easy to work with!"
-Deanna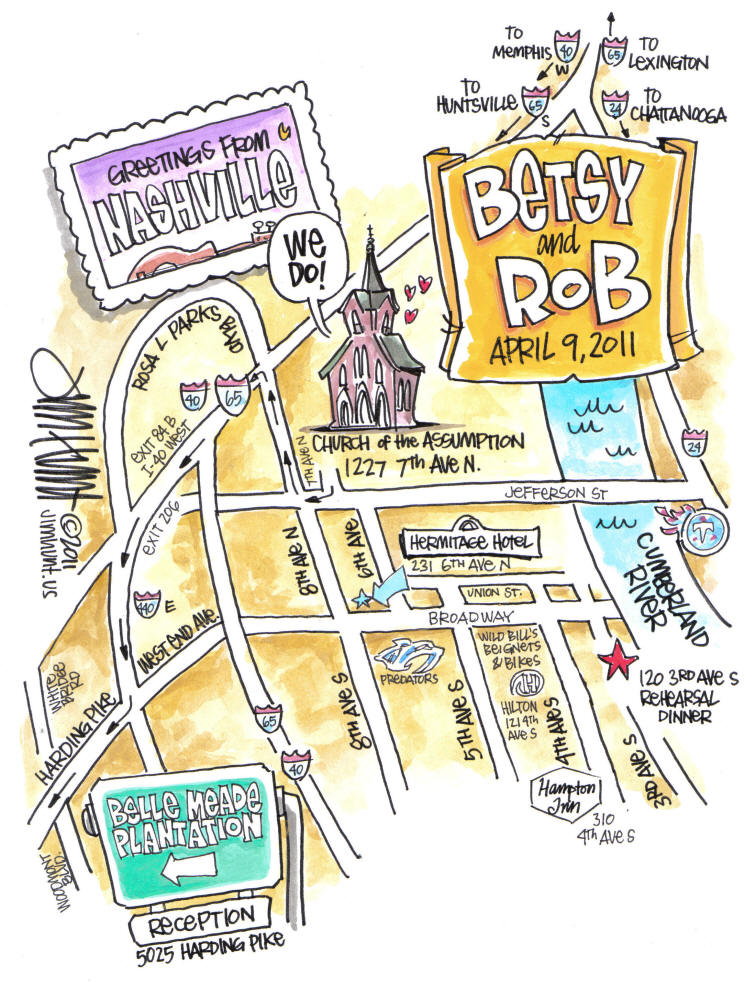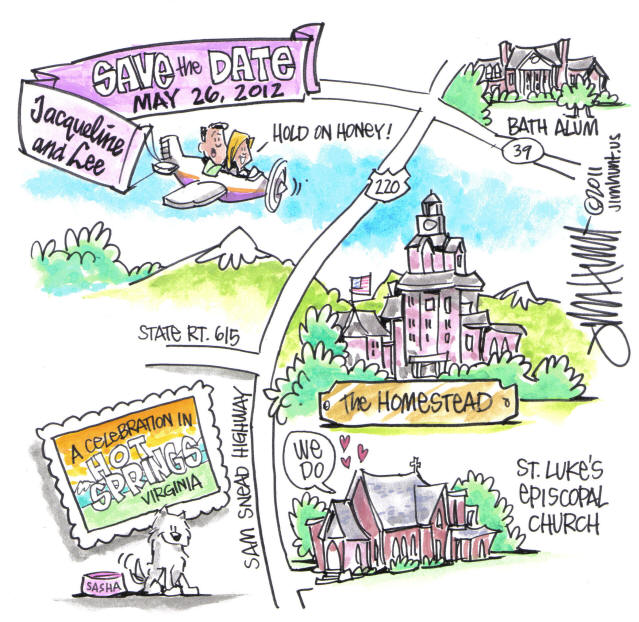 It looks perfect. Thank you for your wonderful artistry. It is so much fun and so playful to have a 'save the date' for our wedding in this rendering. -Jacqueline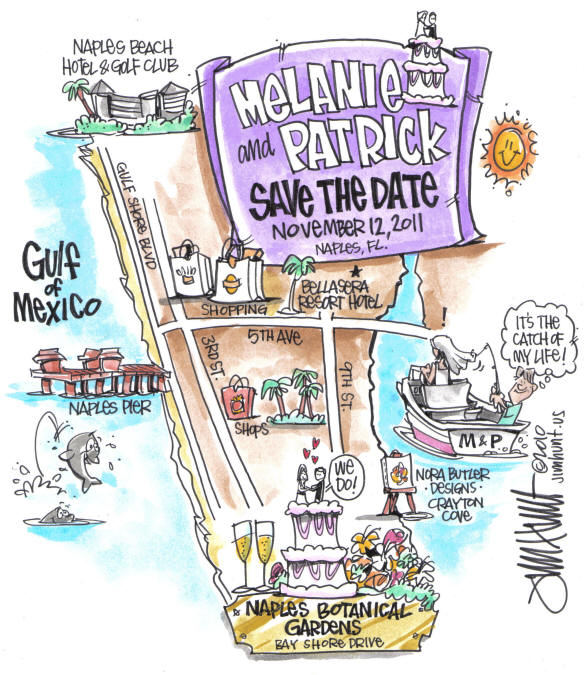 Thanks so much!!! It looks amazing!!!! We can't wait to send out our personalized save-the-dates to everyone! They are going to get a kick out of them! -Melanie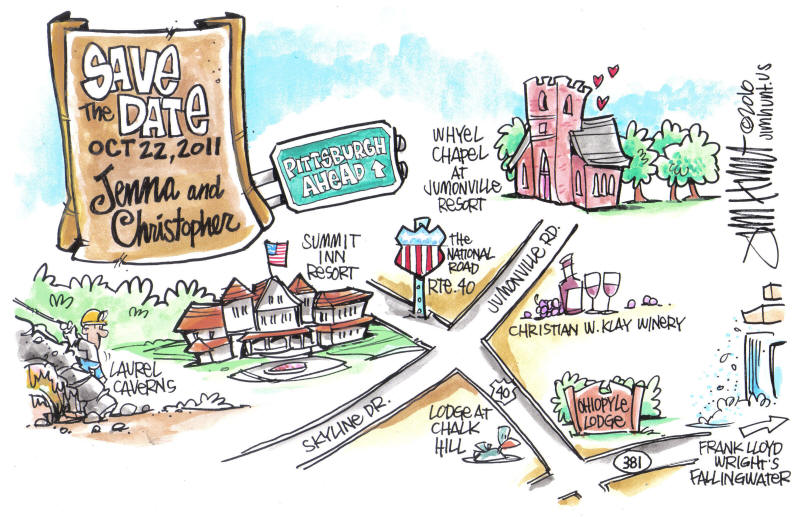 It looks great! We love it and we can't wait to see the original! -Jenna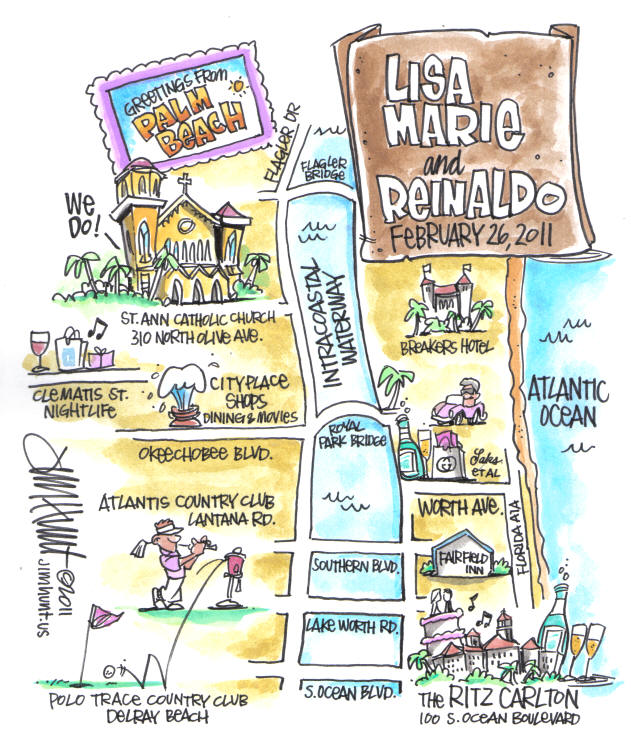 Love Love Love, -Sara (wedding planner) http://sarareneeevents.com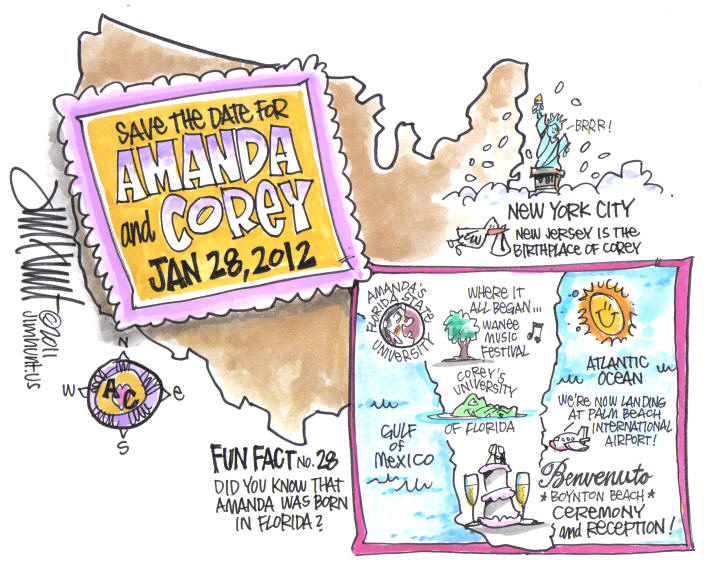 "Looks amazing, all set for color :) Can't wait to see it !!!!!!" -Amanda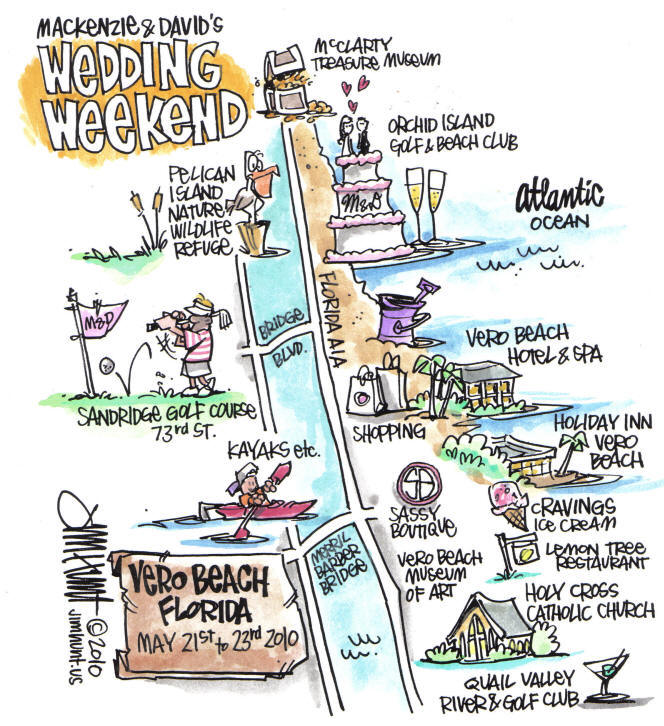 Thanks so much for everything. The picture is EXACTLY what we had envisioned.
We couldn't be happier with the final product. -Dave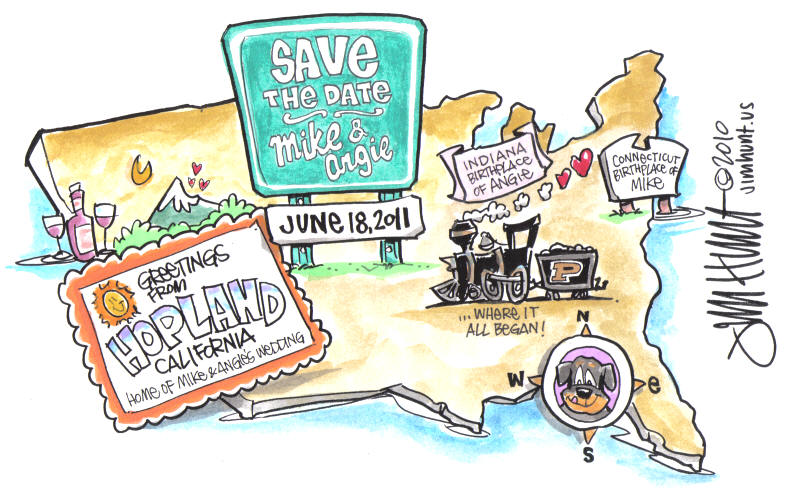 WE LOVE IT!!!! Thank you so much! The whole thing is just so unique and so 'us'
- thank you, thank you! -Angie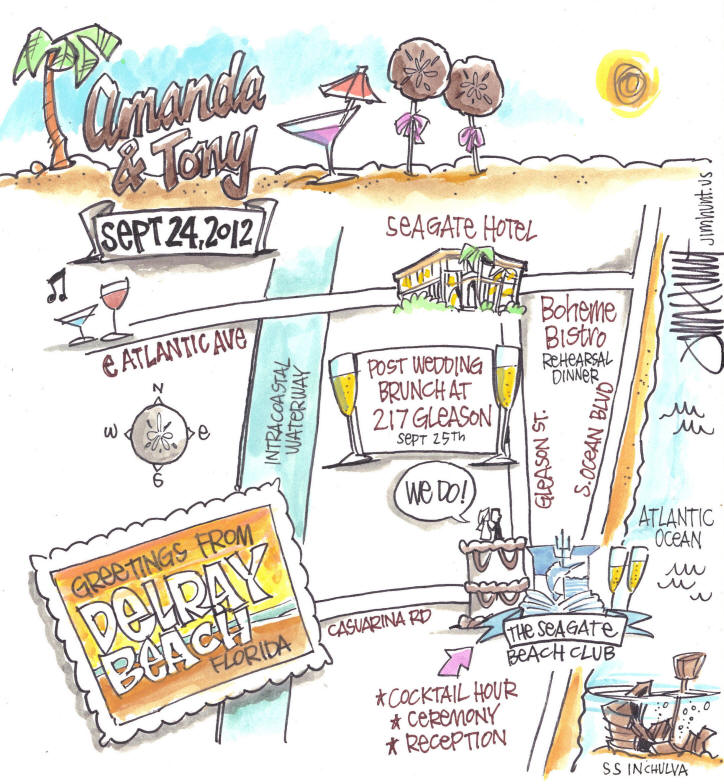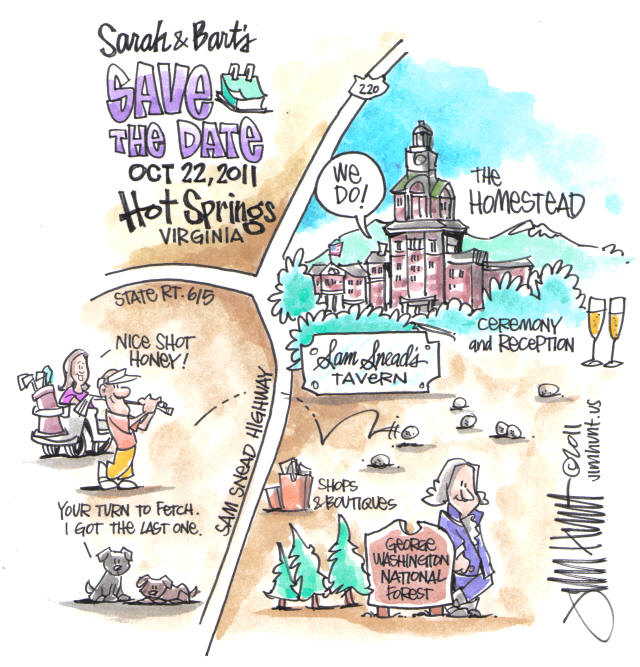 "I love it!!! Thank you so much..." -Sarah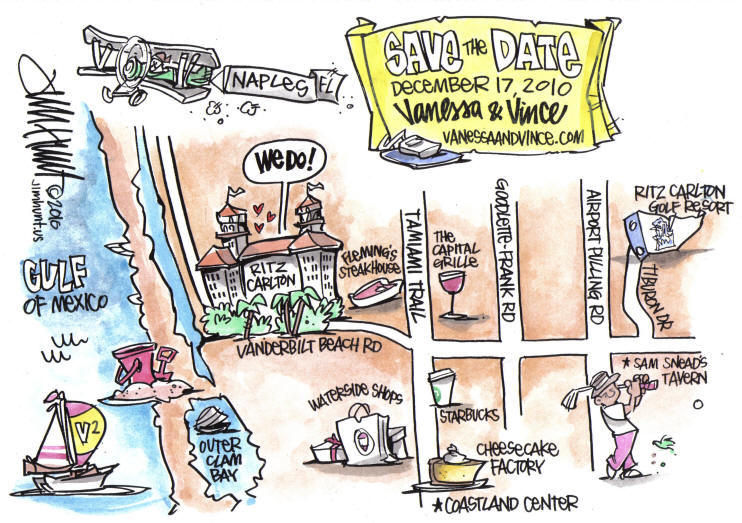 "... we love the map. It came out absolutely perfect! We've looked at it about 1000 times and every time we find something new that makes us love it even more.
I can't thank you enough for your incredible work :)" -Vanessa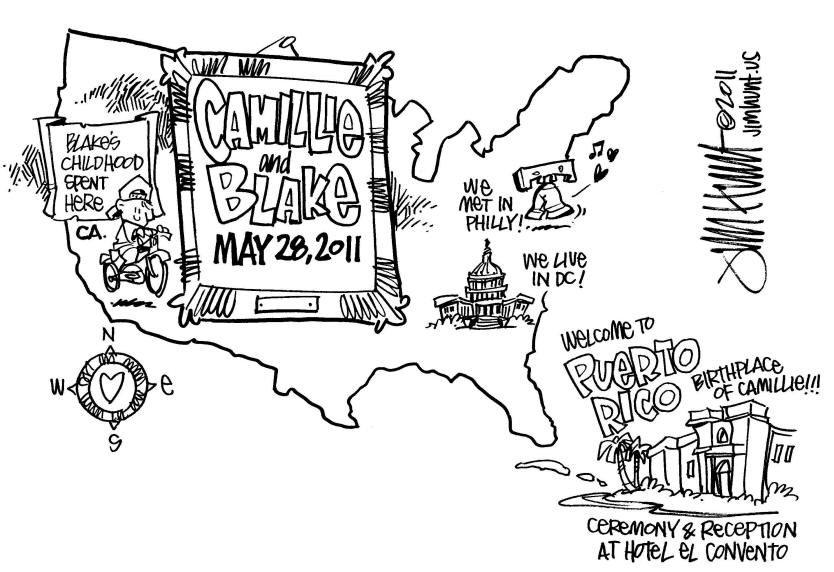 Thank youuuu! This is awesome!! -Camillie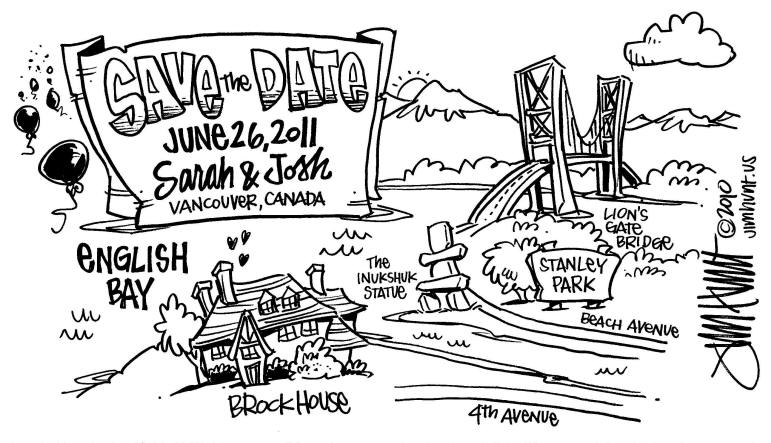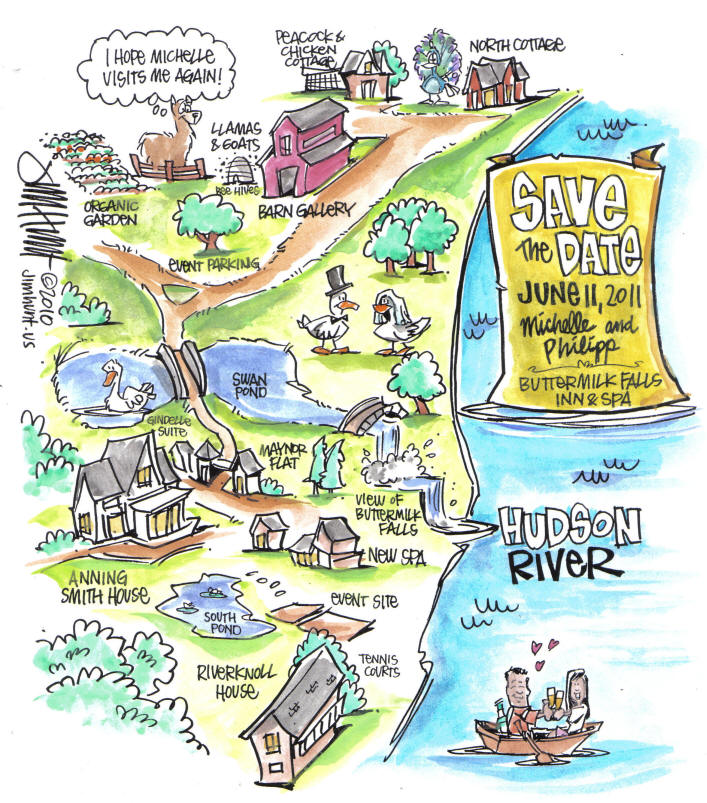 Thanks, Jim! The map is absolutely perfect!
I just forwarded to Phil and he loves it too. -Michelle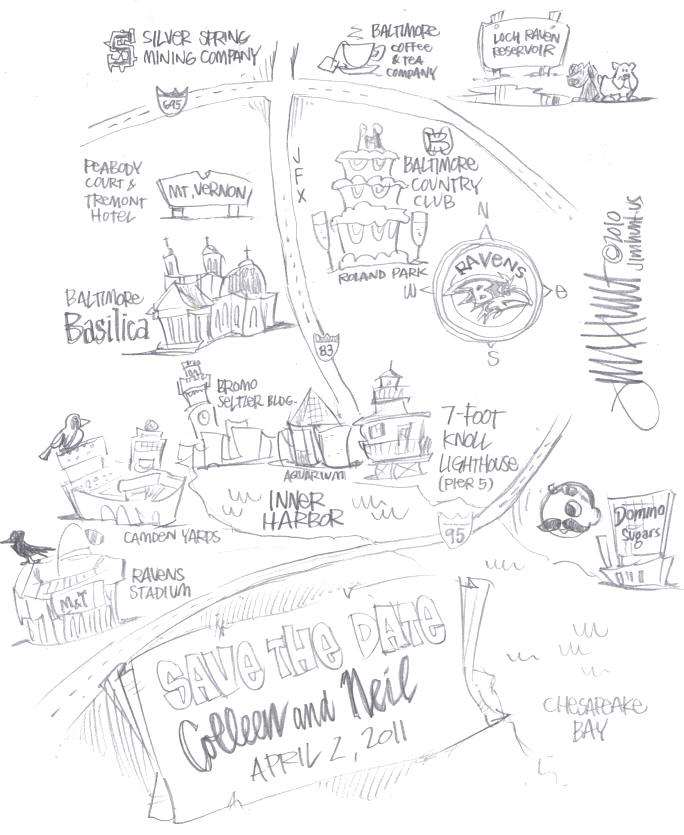 The sketch looks amazing! We love it! -Colleen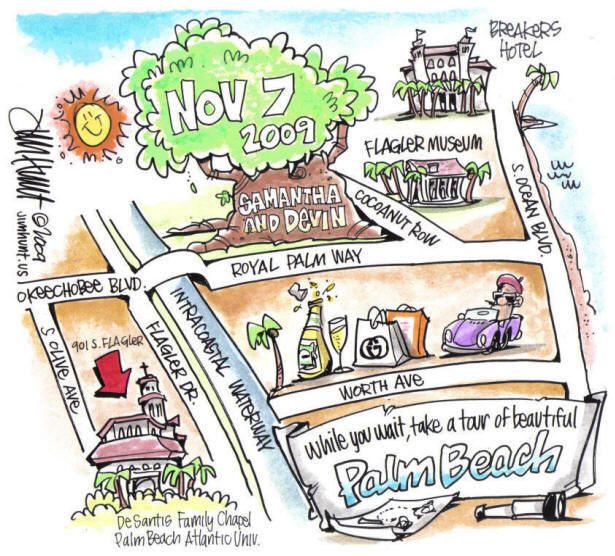 "Wow... that's the only word I've got for it lol. It looks awesome!!
I can't wait for my guests to see it at the wedding!" -Samantha
Custom Caricatures and Comic Pages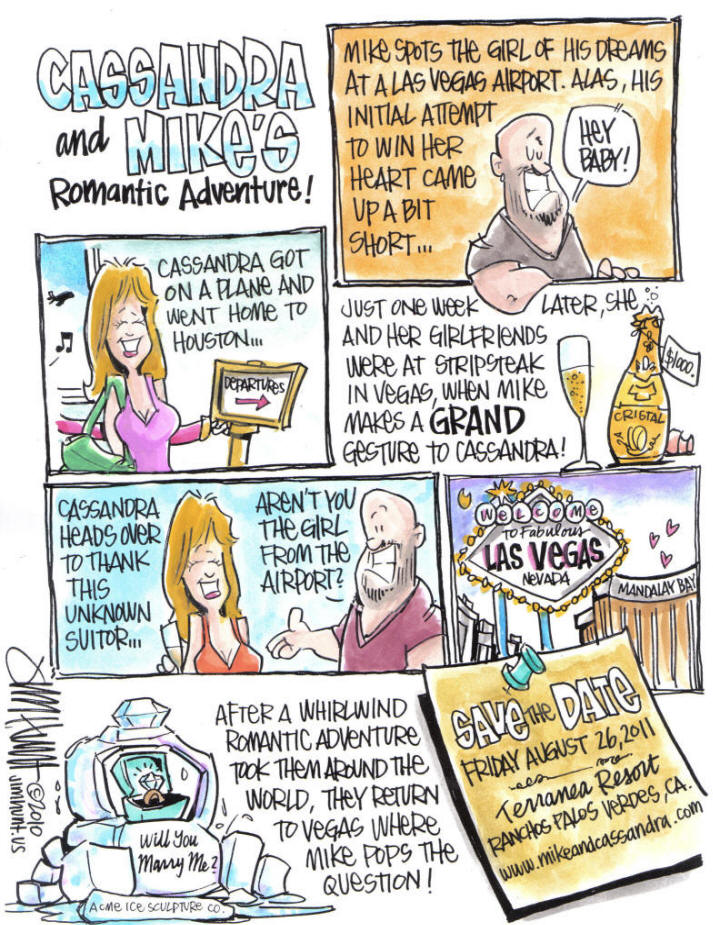 "Perfection! I adore it! I have the biggest grin on my face... You have exceeded my expectations with your wonderful and fun cartoon." -Cassandra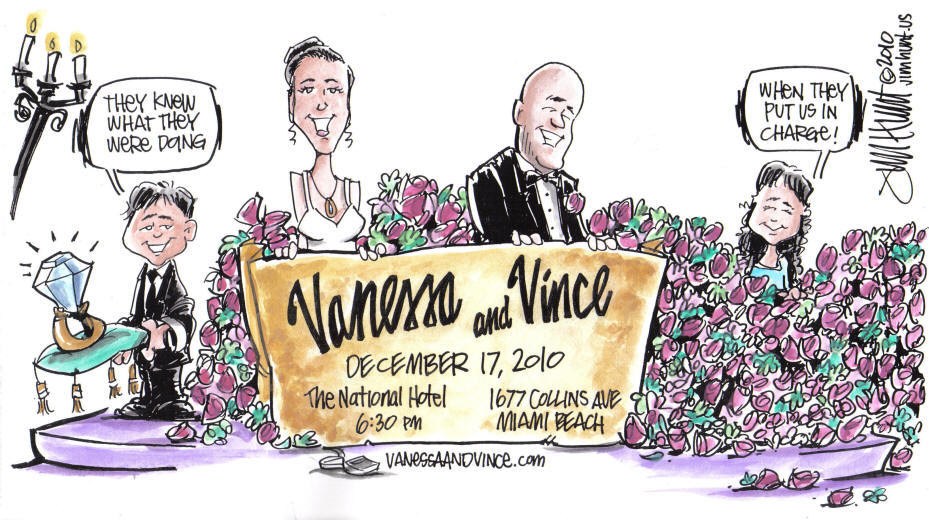 OH MY GOD!!!!!! It's awesome....It came out great!
Vince and I love it...... -Vanessa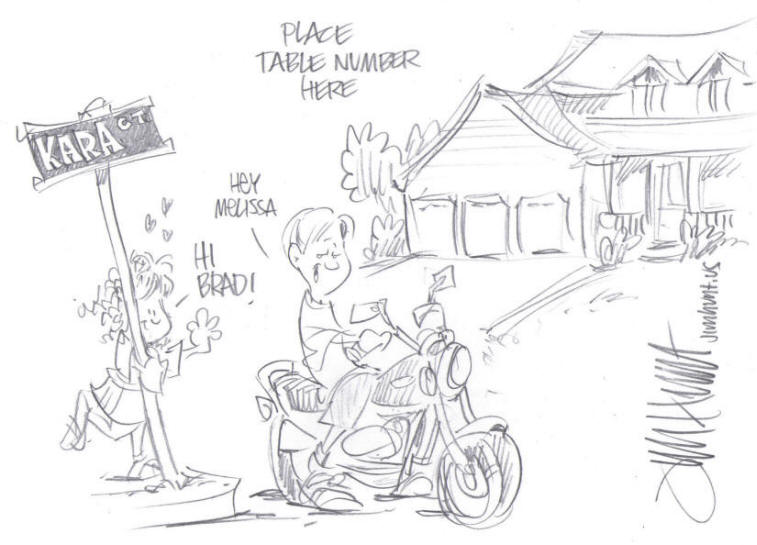 (concept sketch)

The sketch looks AWESOME!! What a great concept! It is absolutely perfect, I wouldn't want to make a single change. You have exceeded my expectations (which were already very high, after seeing your work!). Thank you so much! -Melissa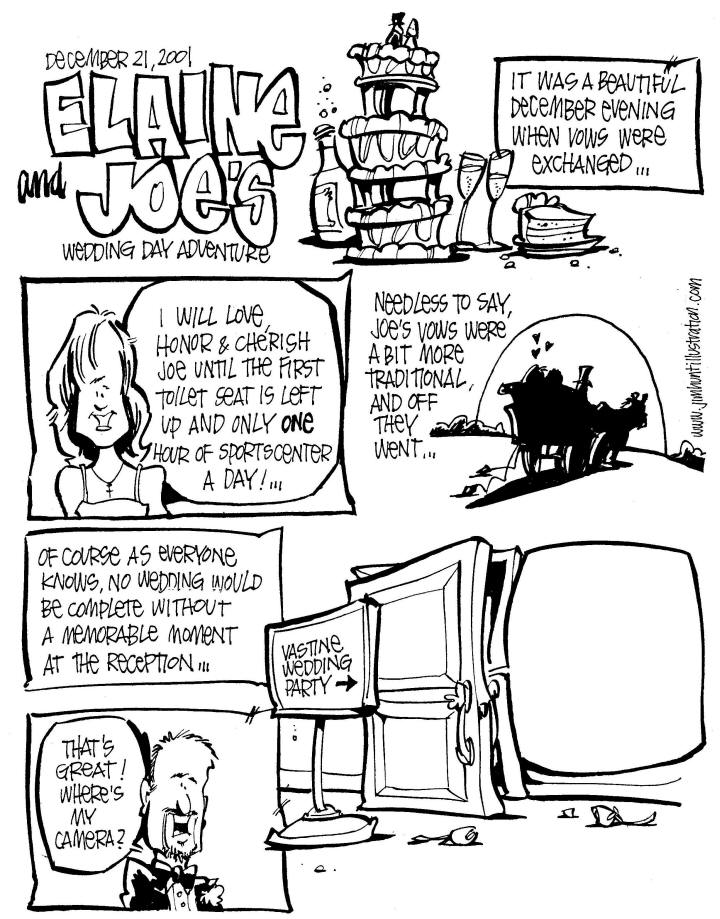 Note: The caption bubble was left open per the couple's request.
They added a personal caption for each member of the wedding party.
... Back to the Maps!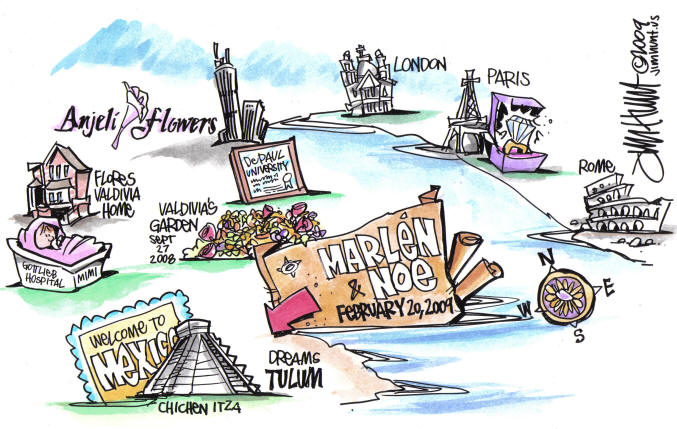 I received the map. It looks great!! Thank you for all of
your help!! It looks absolutely fabulous!! :) -Marlen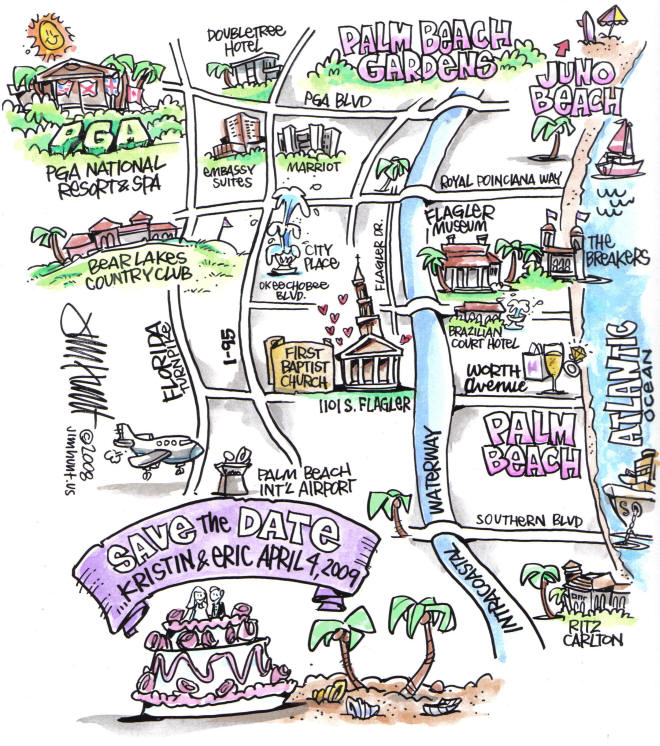 It looks fantastic!!! Thank you so much! -Kristin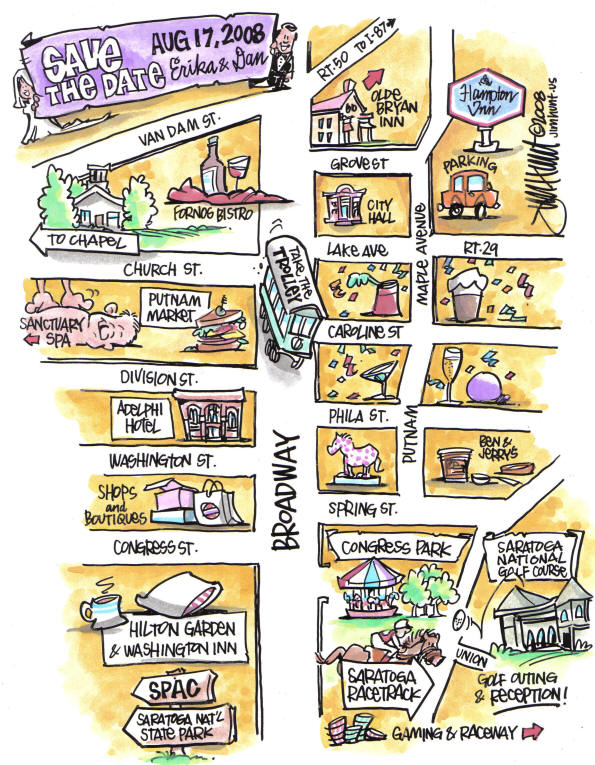 "...You did an awesome job. I passed your name along to one of my friends...
I'll continue to recommend you every chance I get!" -Erika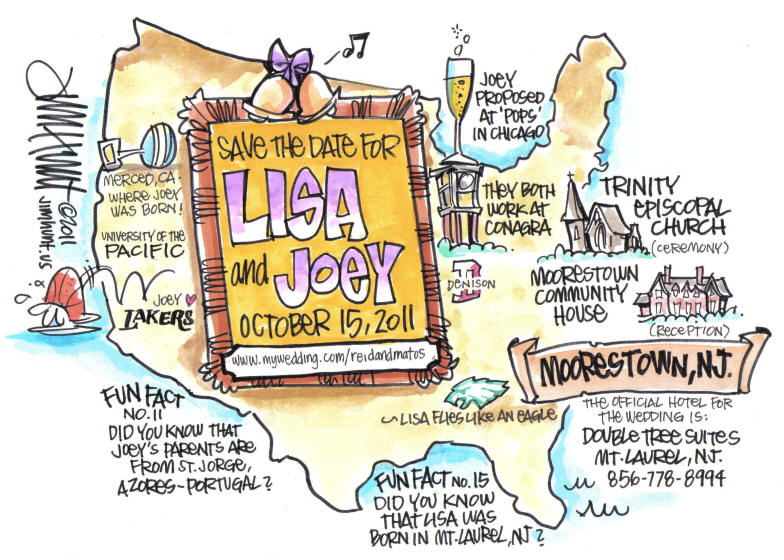 I love it!!! Thank you so much! -Lisa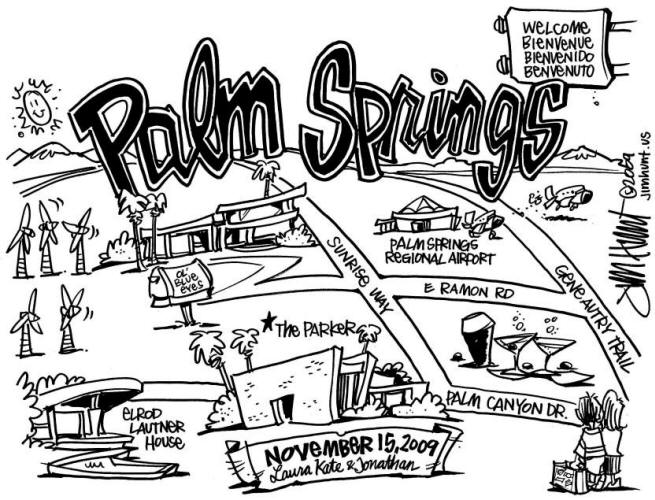 "You rock!! Thank you so much. It's been a pleasure.
I will spread the word about you." -Laura Kate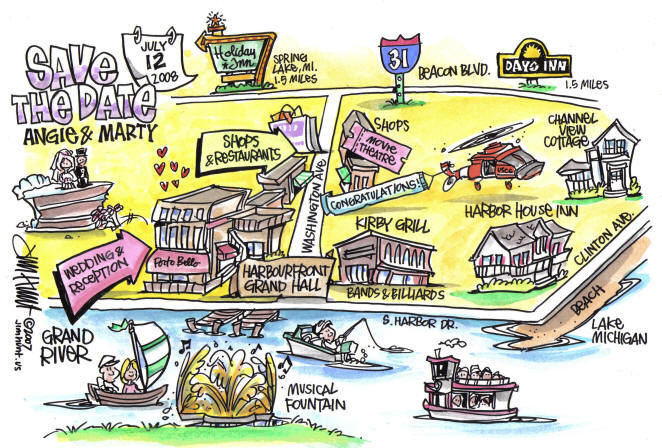 "It looks just great! LOVE the cake with us/bride & groom...
Thanks for all your work and added details." -Angie

From Sketch to Color Art

Here's how the map is created

A preliminary sketch is drawn and emailed for approval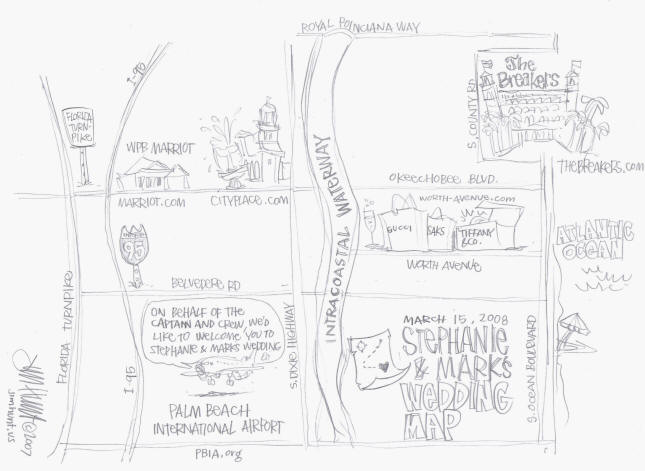 After the sketch is approved (or revised) a

line art version is then drawn.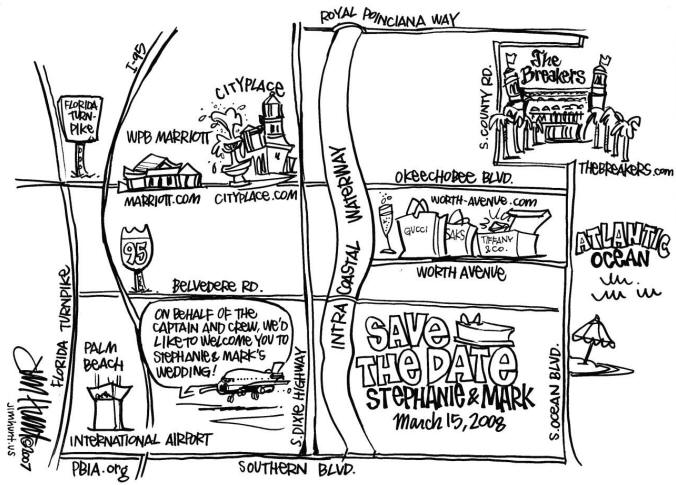 The line art is then hand-watercolored, creating the finished map!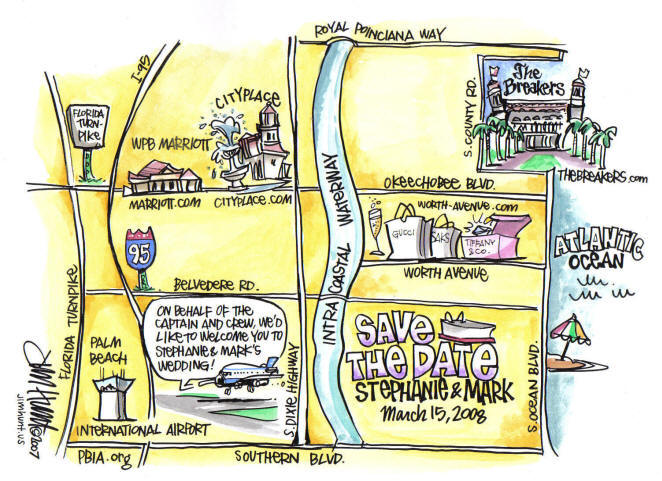 "You do amazing work and your style is eye-catching! It looks like you have fun with it..."
Marcus Hamilton (Draws the weekly panels of Dennis The Menace)
Check out these categories
Children's Book Illustration Cartoon Maps Spots & Icons Logo Designs T-Shirt Designs
Activity Book Art Bar & Restaurant Art Book Illustration Comic Strips NASCAR Museum
Red Sox Fan Sketchbook Political Cartoons Magazine Illustration Concept Sketches
Custom Holiday Cards Sketch of the Week Custom Wedding Maps Characters & Mascots
Cartoons For MLB on FOX Crowd Scenes Fold-In MAD Magazine
Animals Realty Cartoons Sports Cartoons NEW! Caricatures NEW!

acartoonist.com Now based along the Carolina Coast jimhuntcartoons@gmail.com
All Images on this site copyright 2022 Jim Hunt Illustration All Rights Reserved