"You do amazing work and your style is eye-catching! It looks like you have fun with it..."
Marcus Hamilton (Draws the weekly panels of Dennis The Menace)

Check out these categories
Children's Book Illustration Cartoon Maps Spots & Icons Logo Designs T-Shirt Designs
Activity Book Art Bar & Restaurant Art Book Illustration Comic Strips NASCAR Museum
Red Sox Fan Sketchbook Political Cartoons Magazine Illustration Concept Sketches
Custom Greeting Cards Sketch of the Week Custom Wedding Maps Characters & Mascots
Cartoons For MLB on FOX Crowd Scenes Fold-In MAD Magazine
Animals NEW! Sports Cartoons NEW! Realty Cartoons


acartoonist.com Now based along the Carolina Coast jimhuntcartoons@gmail.com
All Images on this site copyright 2021 Jim Hunt Illustration All Rights Reserved




I was asked to draw several cartoons for FOX Sports' Game of the Week broadcasts.








style="color: #0033CC">MLB.com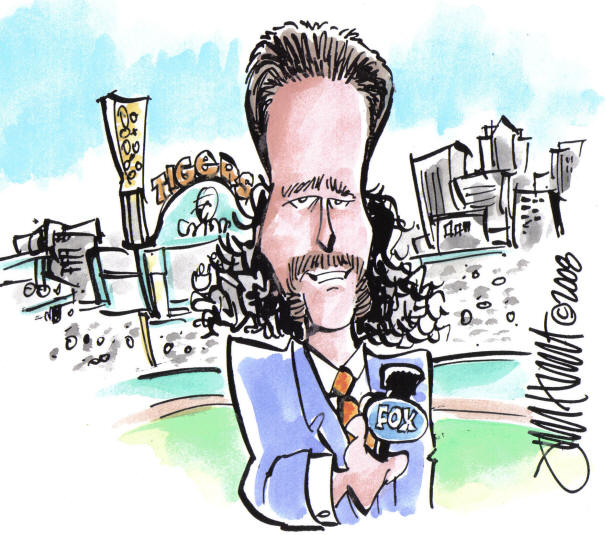 "...There's a little Robert Goulet in there!"
Dick Stockton - FOX Sports









Am I a Red Sox fan?
You bet! Grew up in Massachusetts. As a little kid, I remember taking a marker and drawing a big number 8 on the back of a white t-shirt. Carl Yastrzemski was THE MAN. When I was in college, which was just a foul ball away from the Paaaak, I used to go to games at Fenway after class (yes, sometimes during class!). Back then, you could practically sit anywhere. Those were some lean years. So you can imagine what a thrill it was when FOX Sports asked me if I'd like to work the radar gun for a Red Sox-Yankees MLB Game of the Week. Walking around Fenway before the game (when there were only a handful of people in the entire ballpark), was surreal. The experience was something that I'll never forget.
Click HERE to see how the day went.








acartoonist.com Now based along the Carolina CoastA jimhuntcartoons@gmail.com
All cartoons on this site copyright 2021 Jim Hunt Illustration All Rights Reserved