THE NASCAR HALL OF FAME & MUSEUM GUIDE TO EXHIBITS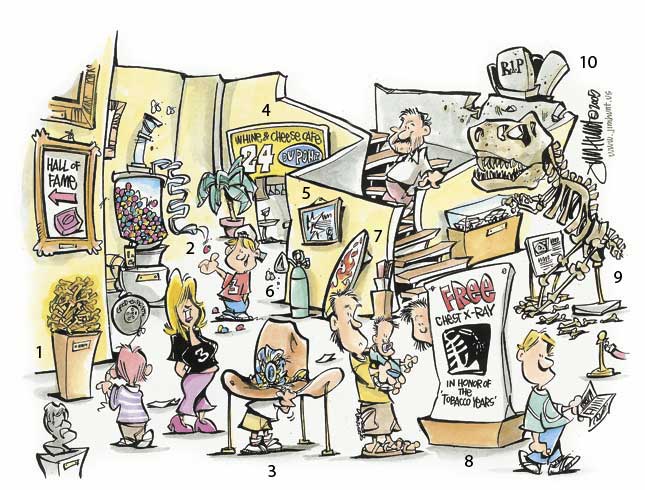 1. Dem Golden Bones
A specially commissioned sculpture by world-famous artist Claes Oldenburg, this interwoven pile of solid gold chicken bones is NASCAR's own tribute to generations of stock car racing fans who've chomped on untold millions of pieces of fried chicken while attending their favorite sport.
2. Junior Johnson Shrine
The rags-to-riches legend of Junior Johnson is an inspiring one for children, so the museum has fashioned a kid-friendly shrine to NASCAR's most famous former 'shine-runner — Junior's Bootleg Gumballs, with a unique dispenser in the shape of an authentic corn likker still!
3. Hail to the King
NASCAR pays homage to the King, Richard Petty, with a stunning replica of his famous headgear (actual size). Plans are in the works for the city to replace the crown in the Charlotte logo with Petty's own "country crown."
4. The Jeff Gordon Whine and Cheese Café
When you want a meal, a snack, or just something cool to drink, you'll feel right at home here. Think Gordon's a California-Yankee interloper? You can whine about it here. Think Gordon's a great star who's under-appreciated because he's not Southern? Come on in and whine to your heart's content. The café's weekend special is always Southern-fried crow.
5. Tony Stewart Temper Testimonial
A museum exclusive: the official certificate verifying that driver Tony Stewart completed the anger management course NASCAR forced him to take in 2003. Includes authentic broken glass and frame.
6. The Bill Elliott Helium Blaster
Many fans would like to be a great a driver like Bill Elliott, but few of them can. And even fewer can sound like him, no matter how high they try to speak, or how many Four Seasons songs they've sung along with. Until now. Step right up to what will no doubt be one of the museum's most popular exhibits. Take a big whiff of pure helium, and you'll be able to screech, "Hey, I sound just like Awesome Bill!"
7. Official Aryan Surfboard
See the actual surfboard driver Kasey Kahne used in Young Aryan Surfers in Love, the hit movie he made in 2006 with Hillary Duff whom he met on the set, married, and had two perfect children with.
8. Free Chest X-Ray
Every patron of the museum will be eligible to get a quick, painless, and free chest x-ray, compliments of the museum, in honor of NASCAR's "Tobacco Years."
9. J-Wrecks!
A tribute to driver Jimmie Johnson. Formerly the most squeaky clean personality in NASCAR, he's changed his tune, driving flat-out bumpercars style and, according to drivers he's pissed off, causing wrecks left and right.
10. Dead Man's Curve
As you're going up or coming down our fabulous stairway, you'll pass Dead Man's Curve, a tribute to the drivers who've been killed while participating in NASCAR events. Stop for a second to pay homage to the likes of Fireball Roberts, Dale Earnhardt, Joe Weatherly, Jimmy Pardue, Adam Petty, Neil Bonnett, Kenny Irwin , Tony Roper, John Nemechek, J.D. McDuffie. . . .well, the list kind of goes on but we'll stop there, no need to upset people or anything.